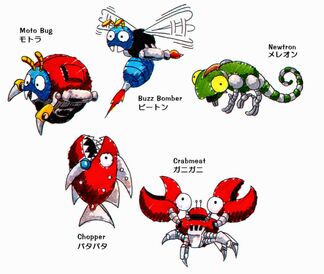 Badniks are a series of robots that appear throughout the Sonic the Hedgehog franchise. Created by the villainous scientist Dr. Eggman (Ivo Robotnik), Badniks come in a variety of configurations and can carry out different functions depending on their individual designs. Many Badniks are modelled after animals or insects while others may appear humanoid; others still may have no particular basis for their design.
Power Source
Badniks have run on various fuel sources over the years. During the early years of the Sonic games and even in some newer titles, Eggman would power his Badniks using live animals he had captured. The animals would be inserted into their Badnik shells on an assembly line and would essentially become organic batteries for the machines. How long a Badnik could operate with a living creature inside its chassis is something that has never been explored within the Sonic universe. When Badniks are destroyed, the animals within are released, apparently unharmed.
Eggman has also powered his Badniks using other energy sources such as regular electricity, fossil fuels and Chaos Drives, an artificial form of Chaos energy.
Badnik Designs
Dr. Eggman has designed hundreds of different Badnik models over the years and re-designed a select few as well. Not all of these robots have been labelled with the Badnik name, rather they have been a part of another specific line of robots, though these have been listed here as sub-groups under the blanket term "Badnik". The following is a complete list of every Badnik that has appeared throughout the Sonic the Hedgehog video games in order of the game they first appeared in.
Sonic the Hedgehog (1991)
Sonic the Hedgehog 2 (8-bit)
Sonic the Hedgehog 2 (16-bit)
Sonic the Hedgehog CD
Sonic Chaos
Sonic the Hedgehog 3
Sonic & Knuckles
Sonic the Hedgehog: Triple Trouble
Bombaberry

Bomblur

Penguin Bomber

Rabibin

Spidal Tap
Knuckles' Chaotix
Poptank

Spiketower

Ticktock
Sonic 3D Blast
Scouter

Hunter

Crock

Dragfly

Shell

Snowman

Pengo

Firefly

Walker

Whirl
Sonic Blast
Sonic Adventure
In the Sonic Adventure titles, Dr. Eggman's then western name of "Dr. Robotnik" was phased out of the game continuity, and so the term "Badnik" was also removed. For several years onward, Eggman's robots were referred to as the E-Series, though the term "Badnik" would later be reintroduced in Sonic Rivals 2.
E-24 Jetso

E-25 Duo Jet

E-26 Bomb Jet

E-27 Hyper Jet
Sonic Adventure 2
Sonic Heroes
Sonic Advance
Sonic Advance 2
Koura

Kura-Kura

Bell

Piko-Piko

Kyura

Flickey

Suta

Geji-Geji

Mouse
Sonic Battle
Sonic Advance 3
Condor

Gekogeko

Minimole

Jousun

Takkon

Uutsubo

Bu-bu

Gaogao

Guards

Juggling

Ginpe

Hariisen

Yukigasen

Clam

Guruguru

Muugaden
Shadow the Hedgehog
Sonic the Hedgehog (2006)
Sonic Rivals
Vultur

Mono Clown

Drill Worm

Metal Hound

Yetee
Sonic Rivals 2
Sonic Rush Adventure
Angler Fish

Skeleton Pawn

Steam Gunner

Steampacker

Triceratank

Wrench Swinger

Snowflake

Snowball Hider

Pirate Hogan

Ptera
Sonic Chronicles: The Dark Brotherhood
Assault Drone

Laser Drone

Sentry Drone

Seeker Drone

Robodillo

Gun Pawn

Shield Pawn

Guardian Pawn
Sonic Unleashed
Sonic Colours
Sonic the Hedgehog 4: Episode II
Sonic Lost World
Dung Beetle

Galaga Bee

Laser Grabber

Manbou

Manta

Tonber
Sonic Mania
Shutterbug

Mic Drop

Tubinaut

Wall Crawl

Juggle Saw

Armadiloid

Cactula

Vultron

Bumpalo

Rattlekiller

Sentry Bug

Flasher Mk. II

Turbo Turtle

Woodrow
Sonic Forces
Egg Tank

Egg Walker

Valkeen
Super Badniks
Super Badniks - also sometimes called Master Robots or Prime Badniks - are more advanced robots that Eggman has created to function as heavy-duty units or commanders of lesser Badniks. These robots are typically much stronger and larger than normal Badniks, sometimes appearing as bosses or sub-bosses depending on the game they appear in.
Sonic the Hedgehog 2 (8-bit)
Gachou Goose

Mecha Sea Lion

Mecha Pig

Pig-Boar Mecha
Sonic the Hedgehog 2 (16-bit)
Sonic CD
Sonic Chaos
Great Banemotora Gold

Dangerous Balltower

Egg Vulcan

Tree Crawler

Sphere-o-Bot
Sonic the Hedgehog 3 & Knuckles
Sonic the Hedgehog 3
Sonic & Knuckles

Big Shaker

Swing'm Spikez

Bowling Spin
Sonic the Hedgehog: Triple Trouble
Marve-shupopolous-gou

Wood Buttarundorf

Giga Thomas "Pen"
Sonic Adventure
Sonic Adventure 2
Sonic Advance
Sonic Heroes
Sonic Unleashed
Sonic Colours
Wii version
Nintendo DS version

Rotatatron

Refreshinator

Captain Jelly

Admiral Jelly

Big Chaser
Sonic Lost World
Antlion Mother

Blowfish Transporter

BFB

Gustav Turtle

Utsubo
Sonic Mania
DD Wrecker

Amoeba Droid

Shiversaw

Hotaru Hi-Watt

Uber Caterkiller

Meter Droid

Drillerdroid

Crimson Eye

Hard-Boiled Heavies

Heavy King

Heavy Gunner

Heavy Rider

Heavy Magician

Heavy Shinobi
Sonic Forces
Death Queen

Death Crab

Death Egg Sentinel
Badniks in other media
Several robots across other Sonic-related media have been categorized as Badniks. These robots have been listed below.
Archie Comics
Pre-Super Genesis Wave
Post-Super Genesis Wave

Flying Dynamo

War Walrus

Tails Doll
Sonic the Comic (UK Fleetway)
In Sonic the Comic, not all Badnik models were created by Dr. Robotnik. Many of them were designed by his assistant Grimer and others still were created by the treacherous Commander Brutus who was a Badnik himself.
Badnik Ruff

Badnik Stripes

Mobile Badnik Processor

Bonehead

Sonic Badnik

Tails Badnik

Amy Badnik

Johnny Badnik

Spider-Moth

SBS Tank

Mr. Blobnik

Kintobor Badnik

Savage Skunk

Smokey's Badnik
Adventures of Sonic the Hedgehog
Torch

Arms

Davy Sprocket

Ball Hog

Roller