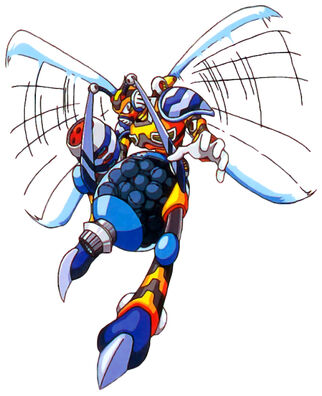 Blast Hornet
is a
Maverick
Reploid
who appears as a boss in
Mega Man X 3.
Formerly a member of the
Maverick Hunters
, he worked under
Zero
in the Special 0th Unit. When
Dr. Doppler
began inviting Reploids to
Dopple Town
, he invited Zero as well, but Zero turned down the invitation. Blast Hornet went in his place and was forcibly turned into a Maverick by Doppler.
Abilities
Flight
Parasitic Bomb - The capsules that Blast Hornet launches from his tail turn into small hornet drones that seek out targets and detonate after latching on. X can copy this weapon.
Weakness
Gravity Hole - Gravity Beetle's weapon can cause Blast Hornet to drop all of his stored bombs and disrupts his flight ability.
Community content is available under
CC-BY-SA
unless otherwise noted.