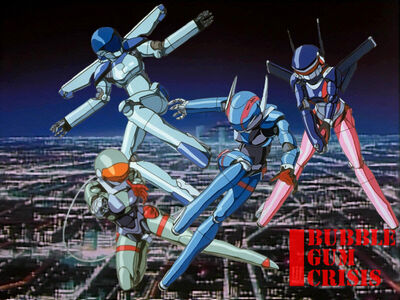 The Knight Sabers are an all-female team of hi-tech vigilantes and are the main protagonists of the cyberpunk anime/manga franchise, Bubblegum Crisis. In the 2030's, the city of Mega-Tokyo is constantly being threatened by renegade Boomers: highly advanced androids designed to serve as labourers and weapons in the society established in the Bubblegum series. In order to quell these incidents and to bring down the corrupt GENOM Corporation that manufactures the Boomers, Sylia Stingray establishes the Knight Sabers by recruiting three women who share her sense of justice and her enmity towards GENOM. The Knight Sabers have based themselves in Sylia's privately owned building, Lady's 633. Each of them wears a sophisticated combat-ready Hard Suit which have been tailored to each user's role within the team. The team is financed in a number of ways: Sylia is already a wealthy businesswoman who owns a lingerie store, Linna has worked as both a dance instructor and a stockbroker, Nene works for the AD Police as a technical conductor, and Priss is a rock singer.
Team Members
Community content is available under
CC-BY-SA
unless otherwise noted.