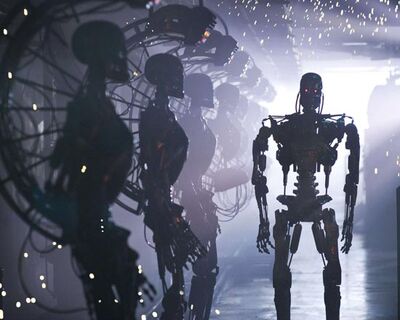 Welcome to the RoboWiki
This wiki is for all things relating to robots. Fascinated by technology? Enjoy media of titanium titans of the future laying waste to us puny meat-sacks? Then come on in!
About
Robot Supremacy/RoboWiki is a database for all fictional forms of robotic life and technology. Robots designed for labour, for war, sentient machines or piloted mecha, they all have a place here. This wiki is not strictly just for robots either, but artificial intelligence and certain digital constructs, cyborgs and bionic technology, as well as the people/characters behind the creation of such devices. RoboWiki is currently maintained by Devo DrakeFox, but anyone is welcome and encouraged to contribute.
Announcements
As of December 1st 2017, Robot Supremacy is undergoing a steady overhaul. This was my first wiki project, something of a trial run, and after all the work I've been doing lately on the Monster Wiki I look back on here and think "I could have done so much better". So for the foreseeable future, I'll be doing some heavy editing of a lot of the various pages and categories currently up on here as there are a lot of articles that need building up or deleting due to various reasons. For starters, the new rule of RoboWiki will be that only fictional content will be allowed (Nobody was adding any real-world content, anyway). If anybody has any questions, feel free to message me and I'll respond when I can. - Devo DrakeFox

Latest activity
Community content is available under
CC-BY-SA
unless otherwise noted.